---
Read current meter readings
Electricity

Unit: kWh

Day and night tariffs

Total

Actual Power (Watt)

Gas

 

 
The smart meter sends a telegram to the SEM-1000 every 10 seconds, where it is stored directly in the database of the device itself. A telegram consists of current meter readings of electricity and gas, but also the current power of all devices combined. The power, voltage and current of 3 phases can also be derived from the telegram. Most houses have only 1 phase (L1) smart meter. Shops and companies often have 3 phases smart meters.
10 minutes
30 minutes
1 hour
2 hours
4 hours
8 hours
12 hours
1 day
2 days

 

 
This real-time graph is refreshed every 10 seconds. So if you turn a light on, you will see after 10 seconds that the power increases. When you switch on a kettle, the bar shoots up considerably This already gives you an idea of ​​which devices use a lot of energy. You can choose from different ranges from 10 minutes to 2 days. By selecting a larger range, for example 1 day, you get a clearer insight into your consumption pattern.
---
Historical report on gas and electricity
| | | |
| --- | --- | --- |
|   |   |   |
A historical report shows the consumption over an even larger period. A daily report shows the consumption per day of the selected month. And a monthly report shows the consumption of all months.
---
Register the consumption of all devices in your house
Hoog
Normaal
Laag
Standby
Periodiek

 
With just a few actions you can determine the power of each device in your house to keep track of the estimated consumption. This way you have insight into all your devices and you know what the estimated annual costs are.
And you do not need to purchase a separate energy meter to measure all your devices in your house. So you only need one device and that is SEM-1000.
SEM-1000 does not measure individual devices. But by reading data from the smart meter, SEM-1000 can calculate how much power a device uses. This is done by measuring the difference before and after the device is switched on. SEM-1000 is capable of capturing the power of a device in 4 states (standby, low, normal and high). Periodic state is used for devices that go on and off according to a fixed pattern, for example a refrigerator. If you want to know how to measure a refrigerator, check this blog "How can I see if my refrigerator is economical?".
---
Other features
Support mobile devices - download the app from

Also suitable for iPads and tablets

Support browsers: Chrome, Safari, IE-Explorer & Mozilla FireFox

Electricity data is refreshed every 10 seconds

Gas data is refreshed every 5 minutes (depending on the type of smart meter)

Your privacy is guaranteed, all measurements from the smart meter are stored in the device itself

Raw P1 Data export is possible in Excel-CSV format

One Click Firmware Update (always receive the latest version with security updates & new functionalities)

2 year warranty

---
Hardware Specification
| | |
| --- | --- |
| CPU: | Orange Pi Zero Allwinner H2 ARM |
| | |
| --- | --- |
| Network: | 10/100M Ethernet RJ45 |
| | |
| --- | --- |
| Wi-Fi: | IEEE 802.11 b/g/n 2.4 GHz |
| | |
| --- | --- |
| USB: | USB 2.0 OTG + power supply |
---
| | |
| --- | --- |
| Power adapter input voltage: | 230V AC |
| | |
| --- | --- |
| Power adapter output voltage: | 5V DC |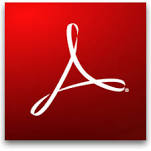 To read the manual, please download and install Acrobat-Reader.
---
Physical features
Size (B x D x H): 55 x 67 x 30 mm
Physical features inc. cables
Size (B x D x H): 150 x 67 x 30 mm
---
Security
All Qubidia devices are equipped with 3-Layer-Security to protect you against data theft and hackers
Uses encryption to secure the operating system
Use https (port 443) connection and a firewall that ensures that all other unnecessary ports are closed
You can log in with a password or a PIN code
---
Connections
Micro USB: 5 Volt / 1 Ampère
USB: for connection with port P1 (RJ11) on your smart meter
UTP(RJ45): for connection with your router
---
How to connect SEM-1000?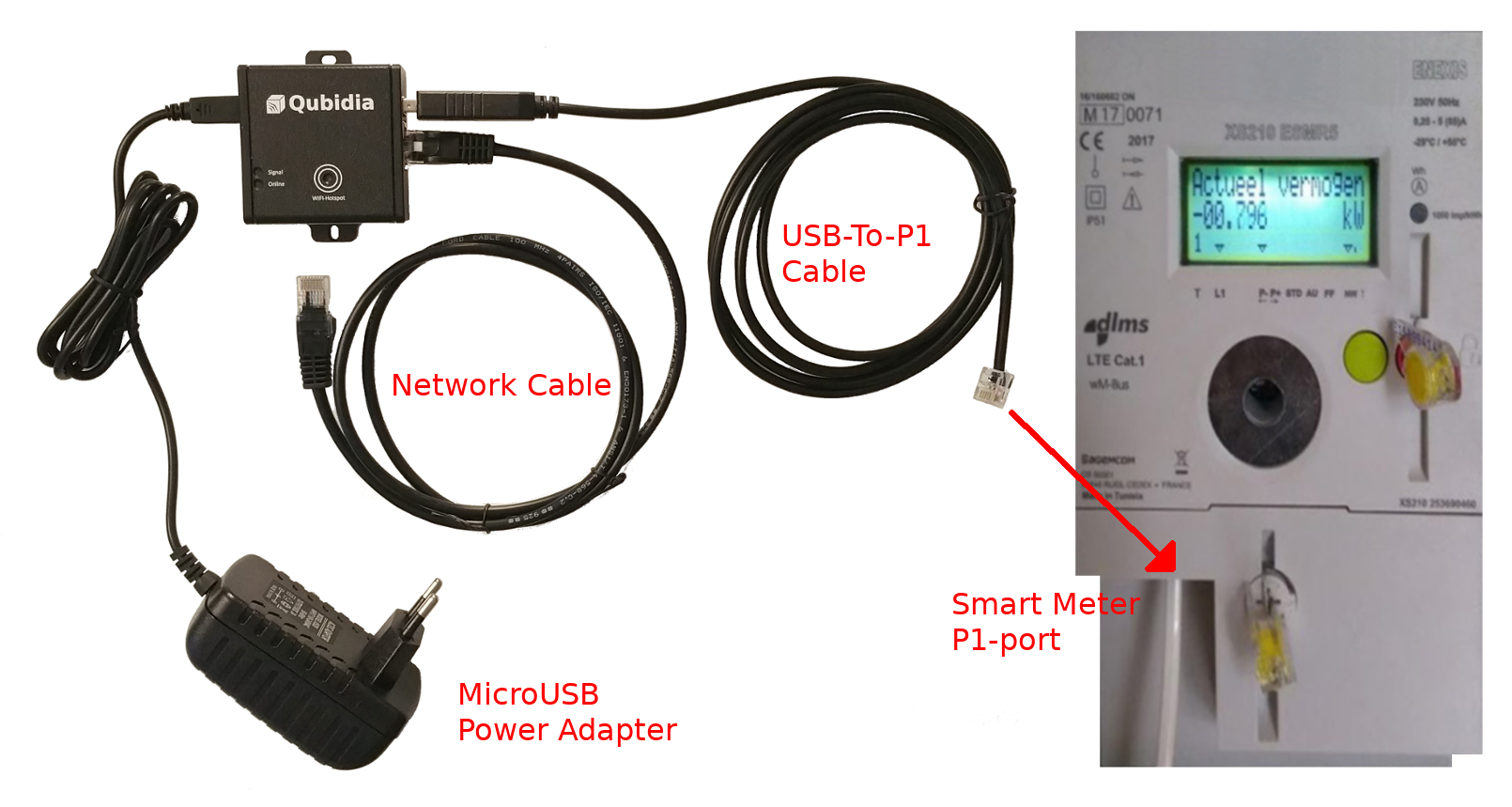 Connecting SEM-1000 to your smart meter is very easy.
Connect the USB-connector from USB to P1 cable to the SEM-1000 and the other end (RJ11-connector) to P1 port on your smart meter.
Connect the MicroUSB connector of MicroUSB power adapter to the SEM-1000.
Connect the MicroUSB power adapter to your outlet.
For a stable connection, it is recommended to connect directly to your router via a network cable. Use the included network cable for this. And it is also safer.
---
What's in the box?
SEM-1000
MicroUSB power adapter
1 mtr network cable(UTP RJ45)
1,8 mtr USB-To-P1 cable
2 x 5mm nylon plugs
2 x (2,9 x 19 mm) screws
---
Important!
Check if your fuse box is equipped with a smart meter. If the meter has a digital display as in the image below, then you have a smart meter. And to be sure that the smart meter has a P1 port, slide the cover off or open a rubber tab. At the end of 2020, all households in the Netherlands will have a smart meter. If you have an old meter (a turntable or a mechanical counter), then contact the grid operator for possibilities.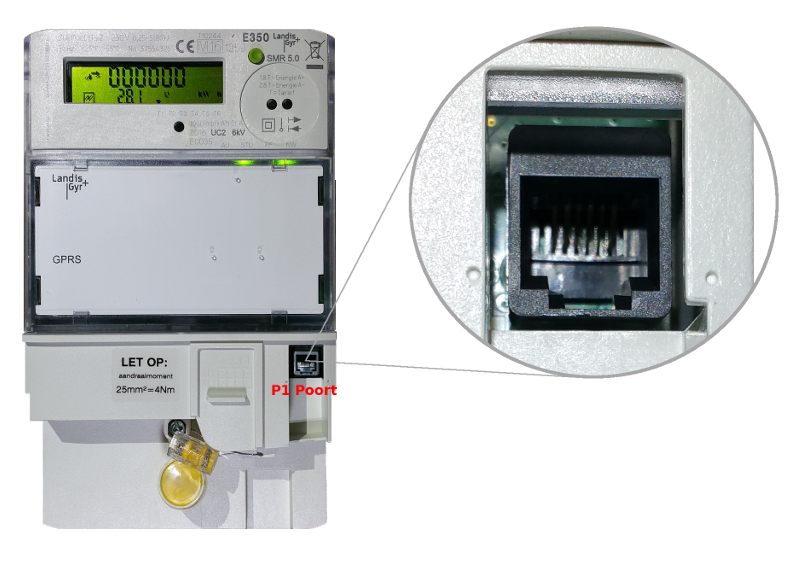 SEM-1000 has already been tested on the following smart meters: Landis + Gyr, Kaifa, Sagemcom, Iskra, Kamstrup, Fluvius.
Not sure if SEM-1000 is suitable for your smart meter?
Or do you have other questions?
Feel free to ask your questions
at This email address is being protected from spambots. You need JavaScript enabled to view it.
or call +31 (0)85 - 060 0559
during office hours
Register here to receive
newsletters from Qubidia.